A WORD ABOUT OUR EVENTS 
Ya, the pandemic caused our touring activities to grind to a breath-taking halt... So we took advantage of the time at our home base by recording our new full-length album and finishing an arthouse movie that's a key part of our MainStage show, "Children of Metropolis". We also created a mobile app devoted to our instruments and much more.
We honestly can't wait to share it all with you.
We realized we'll be celebrating 25 years in 2023, too! So there's much to celebrate. 🎉
Make sure you sign up to our list to be notified when touring activities resume and more! 👍
Keep in touch. Let us know if/when/where you saw our first production!! ❤️ Want to see us in performance, live? Let us know that too! 🤗
Thank you for your support. 😍
EARLIER TOURS
🎉 We started touring internationally in 2001. See where we've performed!
2019
USA
Stephen B Humphrey Theater, SJU, Collegeville, MN
Omaha Performing Arts Cener, Holland Concert Hall, Omaha, NE
Fermilab, Batavia, IL
Zoellner Arts Center, Lehigh University, Bethleham, PA
The Strathmore's Think Big Cafe, Gaithersburg High School Theatre, Gaithersburg, MD
2018
CANADA
Oakville Center for the Performing Arts, Oakville, ON 
River Run Centre, Guelph, ON 
SAM2 school tour, Various places across BC
USA 
Rozsa Center, Houghton, MI 
Diana Wortham Theatre, Asheville, NC 
The Strathmore, Bethesda, MD 
McGlohon Theatre, Charlotte, NC 
Capitol Theatre, Madison, WI 
2017
USA
The Grand 1894 Opera House, Galveston, TX 
Majestic Theatre,San Antonio, TX 
CANADA
SAM2 multi-school tour, Various places in BC
2016
USA
Anchorage, AS 
Fairbanks, AS 
Seward, AS 
CANADA
SAM2 multi-school tour, Various places in  BC 
Big Sky Festival, Ft McMurray, AB
2015
GERMANY   
Theater der Stadt Marl, Marl     
Stadthalle Troisdorf, Trois Dorf     
Lessingtheater Wolfenbüttel, Wolfenbuttel     
Theater Wolfsburg, Wolfsburg     
Heinz-Holpert Theater, Lünen     
Theater Coesfeld, Coesfeld     
Kulturschloss Grosslaupheim, Laupheim     
Parktheater Iserlohn, Iserlohn     
Parktheater Im Kurhaus Göggingen, Augsburg    
ITALY  
Kulturhaus Karl Schönherr    Schlanders    
USA
Des Moines PAC, Des Moines, IA 
Edison Theatre, St. Louis, MO 
Darke County Center for the Arts, Greenville, OH 
State Theatre NJ, New Brunswick, NJ 
Taos Center for the Arts Community Auditorium, Taos, NM 
San Juan College Auditorium, Farmingto, NM 
Clovis Community College, Clovis, NM 
Macey Center,  Socorro, NM 
Rio Grande Theater, Las Cruces, NM 
Flickinger Center for the Performing Arts, Alamogordo, NM
2014
USA  
Kaskaskia College, Centralia, IL 
Evans Auditorium, San Marcos, TX 
AT&T PAC - Winspear Opera House, Dallas, TX     
McCallum Theate, Palm Desert, CA 
Armstrong Theatre, Torrance, CA 
The Theatre at RVCC, Somerville, NJ 
Dana Cente, Manchester, NH
NETHERLANDS  
Fulcotheater, Ijsselstein  
Theater Heerlen, Heerlen  
Schouwburg Almere, Almere  
Schaffelaartheater, Barneveld 
Theater De Lampegiet, Veenendaal 
Schouwburg Venray, Venray  
Schouwburg Orpheus, Apeldoorn 
De Goudse Schouwburg, Gouda
Theater de Schalm, Veldhoven
Theater aan de Schie, Schiedam  
Schouwburg De Kampanje, Den Helder  
Lucent Danstheater en Dr.A.Philipszaal, Den Haag    
2013 
NETHERLANDS 
Schouwburg De Lawei, Drachten 
TheaterDe Muzeval, Emmen 
Theater de Purmaryn, Purmerend 
De Flint, Amersfoort 
Stadsschouwburg Groningen, Groningen 
Theater Canadastellum, Alphen Aan Den Rijn 
Wilminktheater, Enschede 
Theater De Lievekamp, Oss 
Stadsschouwburg Sittard-Geleen, Sittard 
Theater de Kom, Nieuwegein 
Schouwburg Cuijk, Cuijk 
Theater de Veste, Delft 
De meervaart, Amsterdam 
Stadsgehoorzaal, Leiden 
Cultuurcentrum Achterolmen, Maaseik 
Theater De Voorveghter, Hardenberg 
Parktheater Eindhoven, Eindhoven 
De Menthe, Steenwijk 
Theater de eLest, Waalwijk 
Theaters Tilburg, Tilburg 
Theater de Maaspoort, Venlo 
Stadsgehoorzaal, Vlaardingen 
Deventer Schaumburg, Deventer 
Theater Agnietenhof, Tiel 
USA 
Nightingale Concert Hall, Reno, NV 
Fermilab Arts & Lecture Series, Batavia, IL 
Fox Cities Performing Arts Center – Thrivent Financial Hall, Appleton, WI 
Jasper Community Arts Commission, Jasper, IN 
The Grand Theater, Wausau, WI 
CANADA 
Burlington Performing Arts Centre, Burlington, ON 
Centre for the Arts/Brock University, St. Catharines, ON 
Grand Theatre, Kingston, ON 
Salle de spectacles Pauline-Julien, Sainte-Geneviève (Montréal), QC 
Palais Montcalm, Québec, QC 
2012 
USA 
New Jersey Performing Arts Center (NJPAC) ,Newark, NJ 
Harris Theater for Music and Dance, Chicago, IL 
Barre Opera House, Barre, VT 
Krannert Center for the Performing Arts, Urbana, IL 
McKendree College, Lebanon, IL 
The Paramount Theatre, Austin, TX 
Washington Center for the Performing Arts, Olympia, WA 
CANADA 
Imperial Theatre, Saint John, NB 
The Playhouse, Fredericton, NB 
Centrepointe Theatre, Ottawa, ON 
Markham Theater for the Performing Arts, Markham, ON 
Eric Harvie Theatre @ The Banff Centre, Banff, AB 
The Port Theatre, Nanaimo, BC 
Théâtre du Vieux-Terrebonne, Terrebonne, QC 
Auditorium de la Polyvalente St-Joseph, Mont-laurier, QC 
Centennial Theatre, Sherbrooke, QC 
Théâtre Lionel-Groulx, Sainte-Thérèse , QC 
Théâtre Hector-Charland, L'Assomption, QC 
La TOHU, Montreal, QC 
2011 
USA 
Sangamon Auditorium, Springfield, IL 
Annenberg Center-Performing, Philadelphia, PA 
Alaska Center for the Performing Arts — Atwood Concert Hall, Anchorage, AK 
Wortham Center – Cullen Theatre, Houston, TX 
Scottsdale Center for the Arts, Scottsdale, AZ 
Stage One at Folsom Lake College, Folsom, CA 
Wells Fargo Center for the Arts, Santa Rosa, CA 
Smothers Theater, Malibu, CA 
Ellen Eccles Theatre, Logan, UT 
GUATEMALA 
Parco Obelisk, Guatemala City 
AUSTRALIA & HONG KONG 
Kwai Tsing Theatre, Hong Kong 
WOMADelaide Festival, Botanic Park, Adelaide, SA 
2010 
USA 
Callahan Theatre at Nazareth College, Rochester, NY 
Duke Family Performance Hall, Davidson College, Davidson, NC 
Irvine Barclay Theater, Irvine, CA 
Mount Baker Theatre, Bellingham, WA 
The Granada, Santa Barbara, CA 
Carpenter Performing Arts Center, Long Beach, CA 
Colonial Theatre, Keene, NH, USA 
Merrill Auditorium, Portland, ME 
Flynn Center for the Performing Arts, Burlington, VT 
State Theatre, New Brunswick, NJ 
Omaha Performing Arts Center: Holland Center, Kiewit Hall, Omaha, NE 
Edison Theatre, Washington University, St. Louis, MO 
Capitol Center for the Performing Arts, Concord, NH 
CANADA 
Jack Singer Concert Hall – EPCOR Centre, Calgary, AB 
Stanley Alliance Industrial Stage, Vancouver, BC 
VANCOUVER 2010 WINTER OLYMPIC CLOSING CEREMONIES, Vancouver, BC 
Olympic Victory Ceremony (BC Place Stadium), Vancouver, BC 
KOREA 
HI Seoul Festival Big Top, Seoul, Korea 
Bigtop Village Blue Theatre @ Yeouido Hangang Park, Seoul, Korea 
Gala Opening – HI Seoul Festival Main Stage, Seoul, Korea 
2009 
USA 
Jensen Grand Concert Hall, ISU-Pocatello, Pocatello, ID 
Alberta Bair Theater, Billings, MT 
Center for the Performing Arts, Jackson Hole, WY 
Amador Theater, Pleasanton, CA 
Mondavi Center - Jackson Hall, UC Davis, Davis, CA 
Mary Stuart Rogers Theater, Gallo Center For the Arts, Modesto, CA 
CANADA 
Centennial Concert Hall, WSO-New Music Festival, Winnipeg, MA 
Eric Harvey Hall, Banff, AB 
DeathFest, Grande Cache, AB 
Calgary Stampede Grandstand "Big Show", Calgary, AB 
2008 
USA 
Rialto Center, Georgia State University, Atlanta, GA 
Grand Opera House, Mercer University, Macon, GA 
RiverCenter for the Performing Arts, Columbus, GA 
Walton Arts Centre, Fayetteville, AR 
McAninch Arts Center , College of Du Page, Glen Ellyn, IL 
California Center for the Arts, Escondido, CA 
Beckman Auditorium, CalTech, Pasadena, CA 
Hancher Auditorium, Iowa City, IA 
Kirkland Fine Arts Center, Millikin University, Decatur, IL 
Wolf Trap Filene Center, Fairfax International Children's Festival, Vienna, VA 
Allen Theatre, Playhouse Square, Cleveland, OH 
Touhill Performing Arts Center, University of Missouri - St. Louis, St. Louis, MO 
SPAIN 
Teatro Cervantes, Fetival Teatralia, Alcalá de Henares 
Sala Guirau in the Centro Cultural de la Villa, Festival Teatralia Madrid 
BELGIUM 
Centre Culturel de Kortrijk, Kortrijk 
Cultuurcentrum De Spil, Roeselare 
Cultuurcentrum De Warande, Turnhout 
Cultuurcentrum Leopoldsburg, Leopoldsburg 
UK TOUR 
Theatr Brycheiniog, Brecon, Wales 
Aberystwyth Arts Centre, Aberystwyth Wales 
Swansea Grand Theatre, Swansea, Wales 
MacRobert Arts Centre, University of Stirling Stirling, Scotland 
CANADA 
Eric Harvey Theatre, Banff Centre, Banff, AB 
TAIWAN 
Chaing Kai Shek National Theatre, Taipei, Taiwan 
HONG KONG 
Shatin Town Hall Auditorium, Shatin - New Territories 
Kwai Tsing Theatre, Hong Kong 
Hong Kong Cultural Centre, Hong Kong 
GUATEMALA 
Auditorio Juan Bautista Gutierrez, Universidad Francisco Marroquín, Guatemala City 
2007 
CANADA 
Lebreton Flats Park, Ottawa International Children's Festival Ottawa, ON 
Centre in the Square, Kitchener, ON 
Bear Mountain Arena, Vancouver Island Children's Festival Victoria, BC 
Port Theatre, Vancouver Island Children's Festival Nanaimo, BC 
Rose Theatre, Brampton, ON 
Capitol Centre, North Bay, ON 
USA 
UA Centennial Hall, University of Arizona, UA Presents, Tucson, AZ 
Corsicana H.S. Theater, Navarro Council for the Arts, Corsicana, TX 
Overture Center for the Arts, Madison, WI 
Bloomington Center for the Performing Arts, Bloomington, IL 
Spring Days of Percussion,  Arizona Percussive Arts Society, Tucson, AZ 
MEXICO 
Teatro de las Artes, Forum Monterrey, Monterrey 
Festival Internacional de las Artas, Mérida 
2006 
CANADA 
Harbourfront Centre, Toronto, ON 
USA 
Idaho Environmental Summit, Boise, ID 
Conserve School, Land 'O Lakes, WI 
Paramount Theater, Anderson, IN 
Cedartown Civic Auditorium, Cedartown, GA 
Festival Diapente @ Van Wezel Performing Arts Hall, Sarasota, FL 
Herbert C. Young Auditorium, Cary, NC 
Raritan Valley Community College, Somerville, NJ 
Mississippi State University, Starkville, MS 
Heymann Center, Lafayette, LA 
Valdez Community Arts, Valdez, AK 
Kenai High School Auditorium, Kenai, AK 
Fourth Avenue Theater, Anchorage, AK 
Atwood Concert Hall, Anchorage, AK 
Alaska Native Heritage Center, Anchorage, AK 
Naples Philharmonic Hall, Naples, FL 
Ocean Reef Resort, Key Largo, FL 
Carnegie Mellon University, Pittsburgh, PA 
NETHERLANDS 
Chassé Theater, Breda 
Theater de Tamboer, Hoogeveen 
Muziekcentrum Frits Philips, Eindhoven 
Theater Orpheus, Apeldorn 
Theater tSpeelhuis, Helmond 
Schouwburg Amstelveen, Amstelveen 
MEXICO 
Teatro de la Ciudad de Delicias, Festival Internacional Chihuahua, Delicias 
Teatro de los Heroes, Festival Internacional Chihuahua, Chihuahua 
Centro Civico y Cultural Paso del Norte, Festival Internacional Chihuahua, Ciudad Juarez 
Teatro de las Artes, Puerta de las Americas, Mexico City 
AUSTRALIA 
World Percussion Spectacular @ Sidney Myer Bowl, Melbourne 
M2006 Commonwealth Games Festival, Melbourne, 
WOMADelaide Stage, Adelaide 
Victoria College of Arts, Melbourne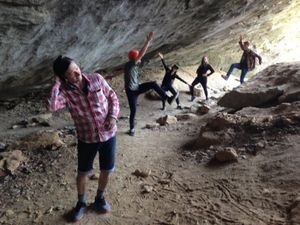 SURVEY TIME: What device you are using RIGHT NOW? Thanks for letting us know!
Thanks for voting!
Choose your device below...
Smartphone

19

Tablet Computer (like iPad)

6

Portable Laptop

17

Desktop Computer

717

759 responses
Share
Never Miss AN EVENT
Be the first to hear about our upcoming shows. 👂🏼 (Soon these CoVid19 postponements will soon be a thing of the past!)
Sign up ✍🏽 so we can share behind-the-scenes prep and more.
We look forward to seeing you in the lobby, after the performance! 👀