Home of Scrap Arts Music...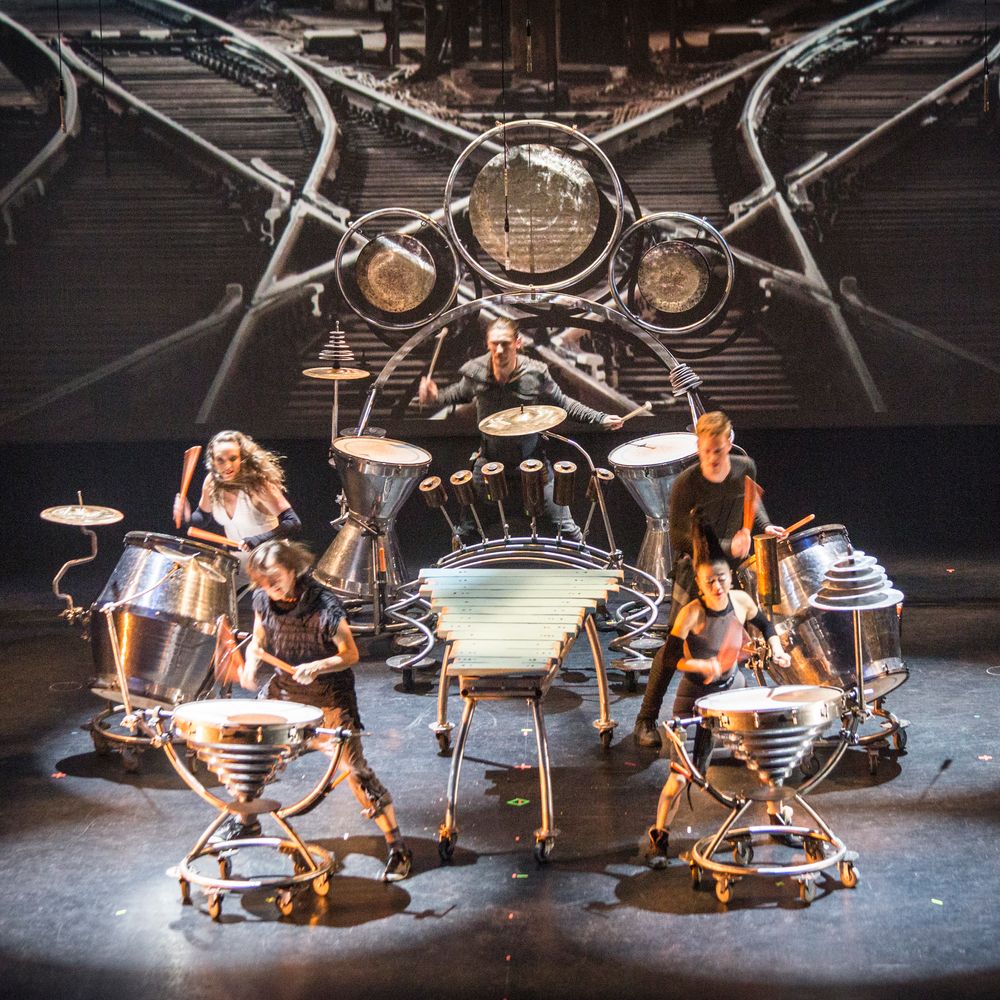 Scrap Arts Music...
BRINGING PEOPLE INTO A MUSICAL WORLD OF WHIMSY, INVENTION & DELIGHT. SINCE 2001.
Every Scrap Arts Music production starts with giving consideration to the visual possibility of performance…
Take some SCRAP, transform it through the ARTS of welding, sculpture, and choreography, and then – with five extraordinary and athletic percussionists – create beautiful MUSIC.
Scrap Arts Music provides:
percussion-based performance for global audiences
theatres and international festival stage presentations
hand-made instruments never seen before
customized community outreach
educational outreach with STE(A)M tie-ins
collaboration with orchestras, dance companies, and more
'Wow Factor' for Sporting, Corporate & Special Events
music for home listening, dance, film score & video games

and more!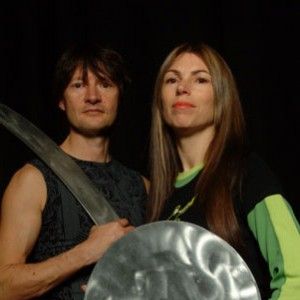 Gregory Kozak + Justine Murdy
FOUNDERS + CREATORS OF SCRAP ARTS MUSIC
Canadian-born and globally bred, Scrap Arts Music has performed in sixteen countries over five continents for audiences of all backgrounds. We offer innovative percussion-based performances and outreach activities with wide-ranging appeal.
Our humble beginnings date to 1998, when we were in Vancouver, short of cash but brimming with ideas.
In three short years, we managed to create over a hundred shiny, hand-built scuptural instruments from condo and harbour scrap (do we have stories!).
We also found athletic multi-instrumentalists to work with, composed music for a 90-minute programme, headed to the Banff Centre for the Arts for an incredibly creative 3-month long residency in the Canadian Rockies... and in 2001, launched a deeply rewarding international career!
Nine years later we were performing in the Closing Ceremonies of the 2010 Winter Olympics, in front of 70,000 people live and beamed to millions around the world...
Add text
"

"★★★★★. High kicking, virtuosic and adrenaline-packed. Who knew that scrap yards and dumps were treasure troves for the makings of new and marvellous musical instruments?""
— Gwenda Nemerofsky, WINNIPEG FREE PRESS (Cana
Watch this video...
"

"Humour, wit and genuine subtlety. The result? Pure Magic… An accomplished and hugely engaging company.""
— Graham Williams, EVENING POST (UK)
"

"This group is perhaps closer to the American maverick avant-gardist Harry Partch than anything in American popular culture.""
— David Patrick Stearns, PHILADELPHIA INQUIRER
"

"This quintet have the total package. Even for the percussively jaded, this group is a knock-out.""
— Clive O'Connell, THE AGE (Australia)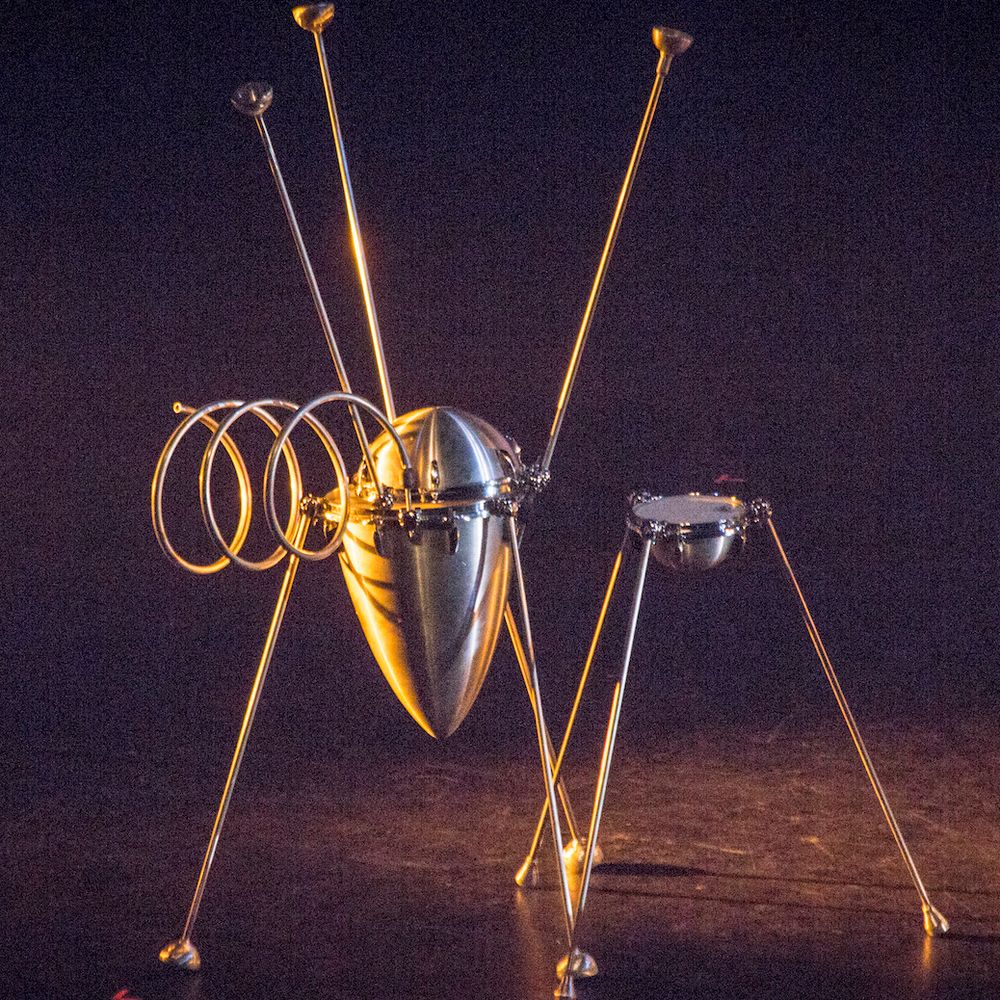 Fast forward to 2018...
CHILDREN OF METROPOLIS IS LAUNCHED!
After relocating to Vancouver Island in 2014, we began exploring film and video projection as a new layer for our percussion-based work that would allow us to advance a musical tale of our own devising. 
Children of Metropolis is a fast-paced and all-acoustic percussion programme that incorporates our signature invented instruments, original compositions and action-choreography. It takes its inspiration from Fritz Lang's iconic,  cult classic, the 1927 film, Metropolis.
Fun-factoid: for our show opening, we worked with filmmaker Andrew Struthers to create our own version of the city of Metropolis… constructing a landscape of retro-futuristic skyscrapers... from our scrap instruments! 
(The ironic twist is that our scrap comes from contemporary condo towers construction salvage!)
Children of Metropolis debuted in limited markets in 2018 and is now touring the world.
Five musicians perform with gymnastic agility and percussive drive, demonstrating mesmerizing performance skills while making beautiful music striking, moving and bowing hand-made, mobile sculptural instruments. 
The result? Musical works that are intricate, playful and powerful, and that delight the eyes, ears and heart...
Follow our adventures! Click here to BECOME AN INSIDER !!
We'll gift you an Instructional Guide to Making Instruments from Recycled Materials.. 
We'll share some upcoming events and humorous  'quick-read' adventure stories from the road too, so CLICK HERE TO BECOME AN INSIDER!
Scrap Arts Music hates spam and never sends any. Remember, you can unsubscribe at any time.
Help us improve our website user experience, by answering this simple, one-click poll: what device are you using right now?