"

What Gregory's done with army surplus materials, like discarded artillery shells from the Vietnam War, is substantial." - Adam Sawatsky
"

Scrap Arts Music is a joyous collision of creativity, experimental sound, and energetic movement." - Linda Barnard
Scrap Arts Music  (Artistic COmpany)
 noun. /skrap-artz-myoo'zik/
1. An internationally renowned, athletic next-generation percussion ensemble.
2. An earth-friendly, Vancouver Island-based company that creates unforgettable performances using mobile instruments artfully crafted from industrial scraps.
3. Five extraordinary, virtuosic and innovative drummers.
4. The company that transforms "scrap" into "art," and "arts" into "music".
 (47 words)  
Mission Statement  
Scrap Arts Music is an original, genre-defying performing arts company that expands on the foundations of traditional and world percussion.   
With its groundbreaking take on live performance meets material environmentalism, Scrap Arts Music creates its own orchestra, compositions and choreography using materials around us.   
Imaginative compositions are performed live with over 145 acoustic, artful instruments made by group founder and leader Gregory Kozak.   
Scrap Arts Music delights in inspiring the next generation with inventive, exciting productions and multifaceted outreach.
'Children of Metropolis' trailer
3 Descriptions: "Children of Metropolis"
I. Children of Metropolis 
Children of Metropolis is the latest production by Scrap Arts Music. It features over 145 self-made sculptural instruments, fifteen all-original music compositions, Scrap Arts Music's signature action-choreography, and now a whimsical full-length movie of our own making that shows while the musicians perform live. 
With a retro-futuristic, sci-fi vibe that takes visual inspiration from German films of the 1920s, Scrap Arts Music's Children of Metropolis is a fast-paced, all-acoustic percussive bonanza with five musicians bringing our original score to heart-pounding life. 
Children of Metropolis is a multi-year creation supported in part by the Canada Council for the Arts, Creative BC, Small Business BC, and FACTOR Canada.
(First two paragraphs are 89 words; with funding acknowledgements it's 115 words)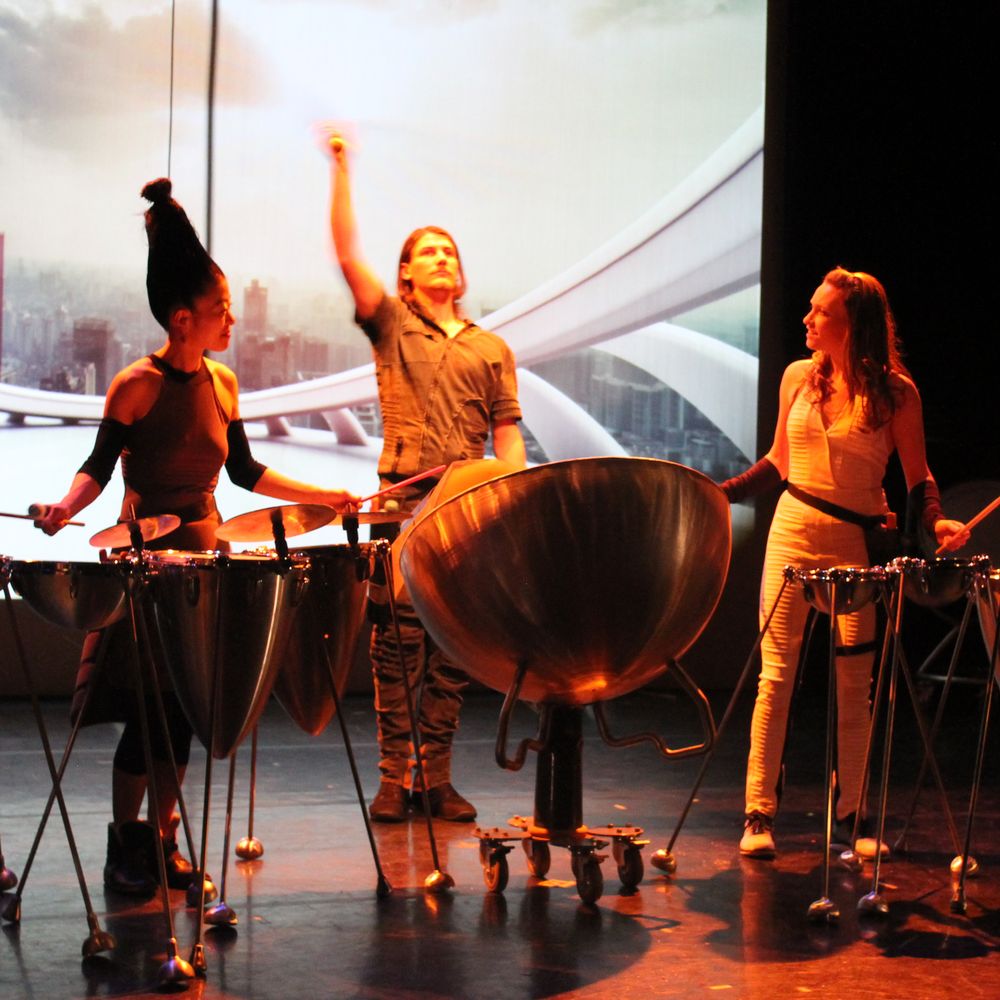 ii. Children of Metropolis
Children of Metropolis is a visionary, fast-paced, all-acoustic, live percussion show with a retro-futuristic sci-fi-inspired film. Five musicians perform with gymnastic agility and percussive drive, demonstrating mesmerizing musical skill while striking, moving and bowing hand-made, beautiful-sounding, mobile sculptural instruments.
Set in an other-worldly dreamscape, Children of Metropolis is inspired by the ending of Fritz Lang's iconic 1927 cult classic film "Metropolis" in which the Great City is ruined by a human induced flood and the children narrowly escape drowning. Children of Metropolis is a whimsical fantasy about what happened to one of those kids.
Children of Metropolis builds upon Scrap Arts Music's forward-thinking art form that involves percussionists who perform all-original music on instruments hand-crafted from scraps by founder and creator Gregory Kozak. Recycled materials used in these mobile musical sculptures are salvaged from in and around Vancouver and Victoria BC, on the Salish Sea.
Intricate beautiful music, high-energy choreography and a smattering of humour give this unique production broad international reach and intergenerational appeal. 

(175 words)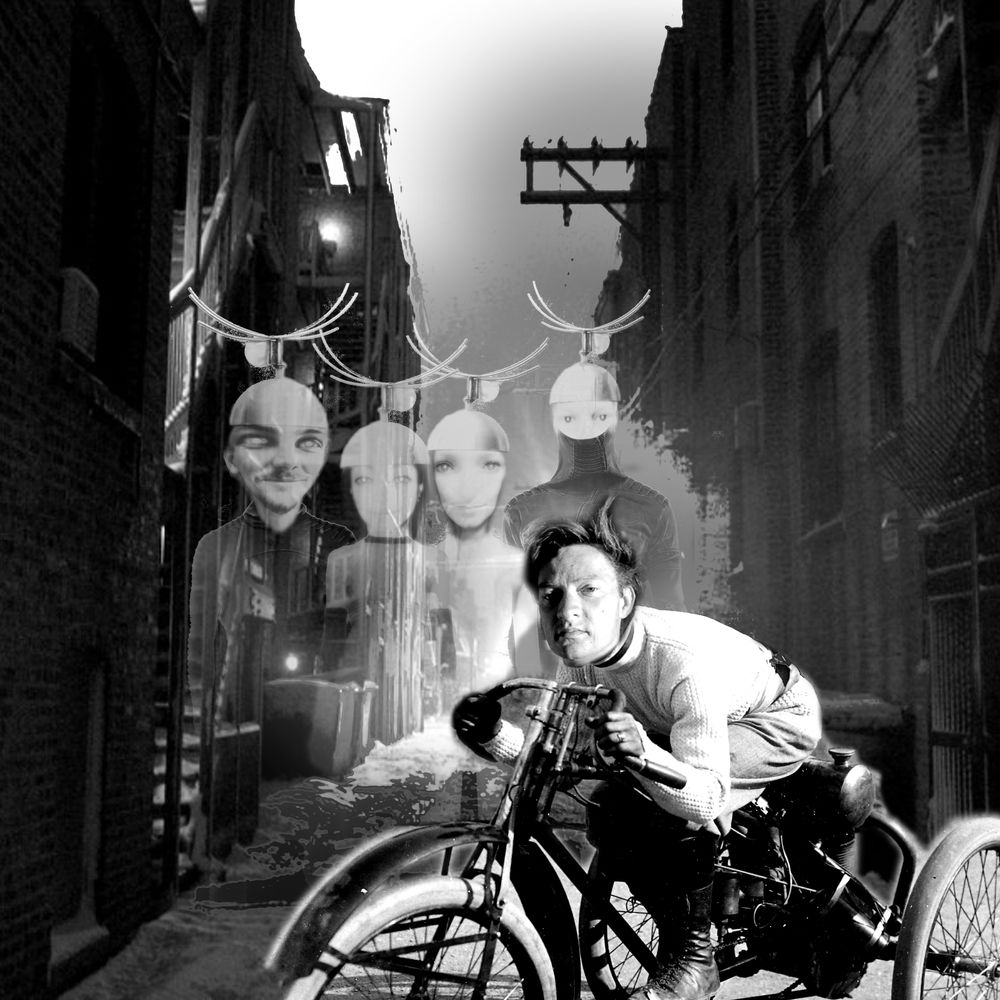 III. Children of Metropolis
Children of Metropolis is an inventive, fast-paced percussion-based show.
Augmenting Scrap Arts Music's visionary use of sculptural instruments, original compositions, and action-choreography, creative catalysts Gregory Kozak and Justine Murdy have also now produced a fantasy film that plays during live performances.
Children of Metropolis takes its inspiration from Fritz Lang's iconic, sci-fi cult classic film, Metropolis (1927).
The new film was created using a similar vintage camera, and 1920s inspired film techniques, and is a collaboration with award-winning Canadian filmmaker Andrew Struthers. 
Fun-factoid: Andrew and his team constructed our own version of the city of Metropolis, creating a landscape of retro-futuristic skyscrapers using bits and pieces of Scrap Arts Music's instruments! The ironic twist is that much of the scrap used in our instruments comes from the construction salvage of contemporary condo towers.
(140 words)
Logo for Children of Metropolis
Radio-ready MP3s, suitable for advertising spots
Multi-Lingual Info Packages
Please Email or call if you Have more questions